Rouge Eau de Parfum by Comme des Garçons Review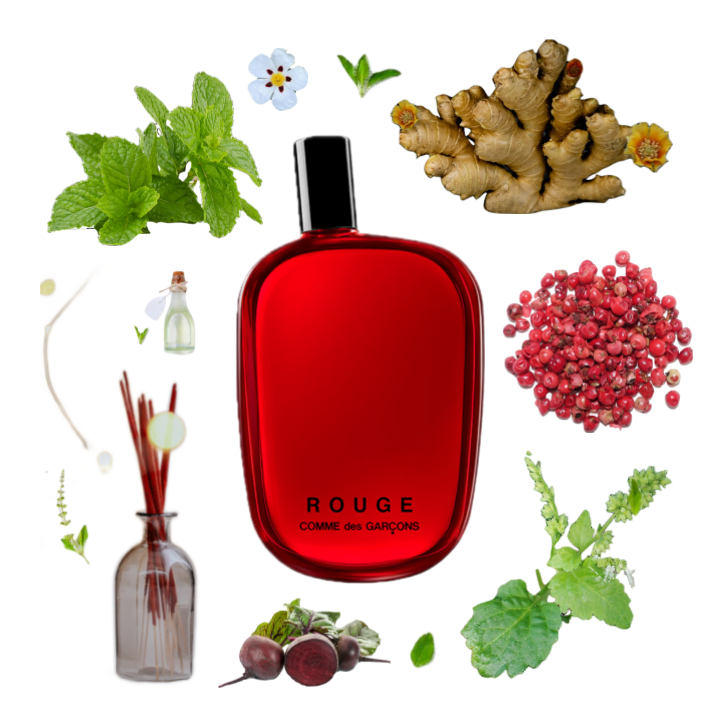 Comme des Garçons' Rouge is ginger through and through. Not a dry, powdered ginger you might bake with, or a fresh, earthy ginger root. No, this is Japanese gari, the pickled ginger you get on the side with your sushi.
It's the part of the sushi experience that I secretly think is the best, that carefully doled out tiny dot of pickled ginger. The day I discovered you can just buy an entire jar of gari at Target, my jaw hit the floor so hard I've had TMJ problems ever since. But anyway.
This ginger is wet, spicy, and briny. It fades in a linear fashion during the life cycle of this fragrance, with the pickling smells slowly overtaking the ginger itself.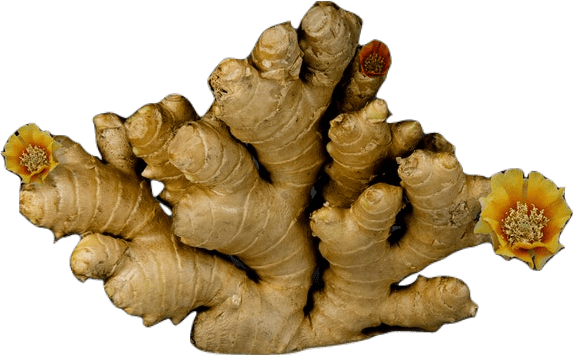 The ginger in the opening of Rouge shouts, instantly recognizable and sharp, like a display in a health food store. It's subtly sharpened and shaped by the freshness of mint and the piquancy of pink pepper. These are masterfully blended, such that they feel like a part of the ginger, not a disparate pile of other health food store ingredients. This is fresh, new, sparkling golden ginger, crisp and hirsute and yellow and alive.
Three to four hours in, however, much of what remains is the strong smell of pickling, with vinegar and herbs, and the suggestion of ginger softened into the background. I smell vinegary brine, along with, perhaps, dill.
This is no cucumber dill pickle, however; the vegetal matter being pickled here is piquant, homey, and sharp, with dill notes like those found in homemade pickles, not in the industrial jars of turmeric-brightened neon green liquid found in the store.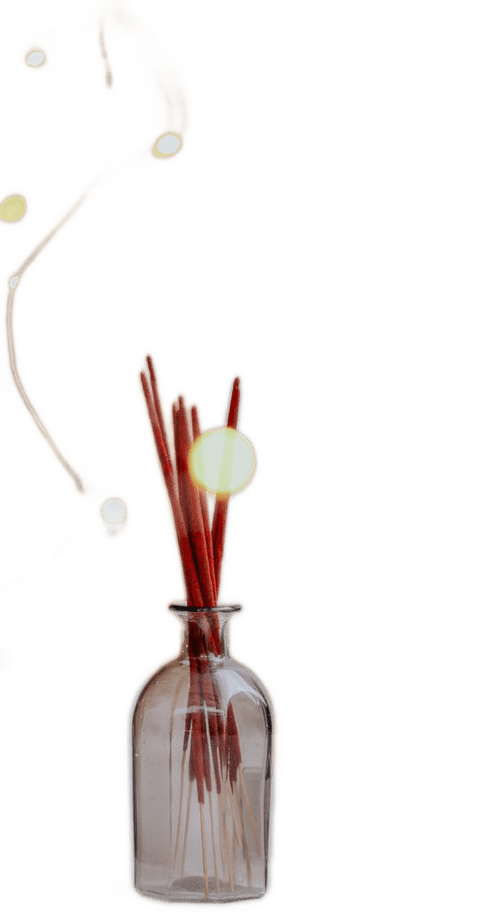 Five to six hours in, as the ginger fades entirely and the pickling herbs begin to die away, there's a faint whisper of sweet smoke. Labdanum and incense. Rouge makes you savor every moment of the savory vegetable smells, and rewards you with a hint of something smoky-sweet clinging to your skin at the end. Incense and labdanum swirl with a certain unexpected sweetness, while patchouli supports its deep earthiness. It rhymes, in a way, with the unexpected sweetness hidden within the earthy layers of a good roasted beet.
Yes, beets. I hadn't seen it in the opening, but at this point, I'll readily believe the leftover whiffs of pickling vinegar suggest beets, in all their earthy, briny glory.
Some note lists also note and list Egyptian geranium leaf and frankincense and mint. None of these particularly jump out at me, but I could believe they were there. A fresh geranium leaf or bunch of mint leaves hiding in the sparkling vegetal freshness of the opening. A grounding, resinous frankincense holding the incense and labdanum together. On my skin, they aren't at all prominent, but they fit into the cool summer evening aesthetic of Rouge.
This scent is linear for a long while, and then takes a sharp turn towards warm dusky evening incense. It lasts a respectable eight hours. It projects at a level that errs on the side of modesty. You don't have to worry about reeking of pickles to everyone around you. This is a perfume that's loud enough to enjoy, but it doesn't shout to everyone around you.
Rouge makes me think of a long summer afternoon in the garden, where things are so loud and fresh and bright and then all of a sudden the sun has set and it's cool outside and the cicadas are singing and your neighbors are lighting anachronistic metal torches in their backyards.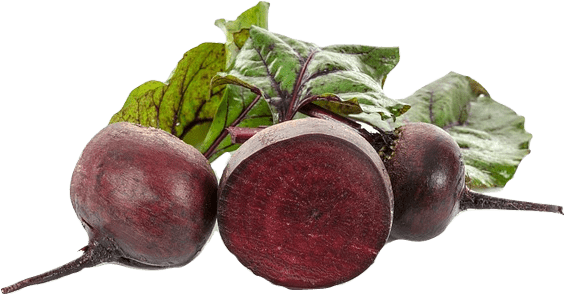 The twist towards a touch of smoke and earth in the drydown is an unexpected and amusing trick. It comes on so quickly, like the arrival of dusk that seems to happen so fast after the seemingly interminable bright summer sunset.
I picked up a sample of Rouge for the beetroot. I actually don't detect anything I'd call beets here most of the time (except perhaps the suggestion of pickled beets in brine and a sweet earthiness towards the end) and I've had a beet or two in my day.
As a ginger lover, however, I'm surprised and enthralled. This is not a baking ginger, but a loud, wet, taunting, biting ginger that lets everyone know it is alive and it can fight. Throughout most of Rouge, I don't get mint or even incense, either; all I get is ginger, lovingly pickled in a fascinating bath of vinegar and herbs.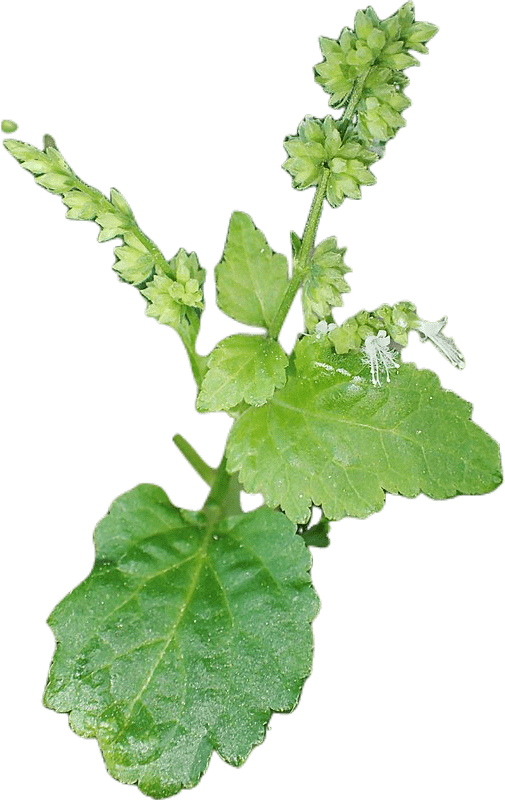 Rouge is one entry in a long and time-honored tradition of perfumes with color names. Hugo Boss' Deep Red, Tom Ford's Black Orchid, the seemingly interminable line of noirs…
But is this really, truly red? Is Rouge the correct color moniker for this fragrance?
Not for me. This is a sunny orange or salmon-colored pickled ginger smell, with bursts of bright yellow spice. This fragrance makes me crave something sweet.
Rouge is gorgeous and unique and would make quite the fascinating and unconventional layering piece with something sweeter. or fruitier. I sampled Keiko Mecheri's Umé on one arm today and this on the other, and alternating between the sugary plum cake and the pickled root vegetables was olfactory heaven. There's a certain pickled, fermented quality shared between the two that makes them a simply divine Japanese fruit-and-vegetable pair.
This perfume is a little challenging and a lot gimmicky, but impressive and charming nonetheless. I'm not quite sure what sorts of occasions demand I smell like Japanese pickled ginger, but I look forward to them.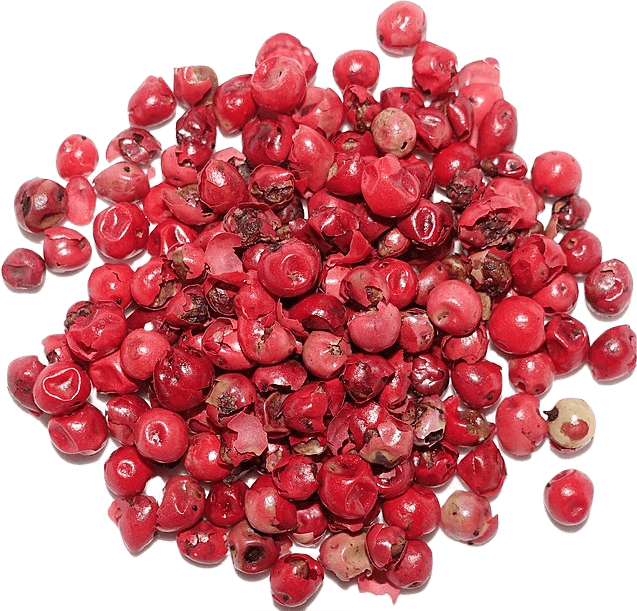 Somehow, there is no particular environment or event where Rouge feels exactly right, but it never feels wrong either. When I need something that feels sophisticated, unique, a little strange, when I need something to wear to a meeting with a man to show I am not afraid of him, Rouge frequently makes my shortlist, along with Sarah Jessica Parker's cool Stash and Comme des Garçons' own Hinoki.
And it works. It feels good. It feels right.
"I am not afraid of you," says Rouge. "I am a giant plate of pickled ginger and beets and too-sweet incense and earth, and I do not care in the least what you think."
That makes Rouge a very brave perfume for me. It makes me feel daring in my piquant weirdness. It feels like a haircut that everyone seems to whisper is unflattering, that somehow makes you feel more confident than you ever have.
It's a fascinatingly photorealistic piece mimicking a scent most would never think to put in a perfume. But talented nose Natalie Gracia-Cetto did, and I love it.
If you'd like a pretty pink-and-yellow silk scarf sort of ginger, go with Hermès' Twilly Eau Ginger. If you want a comforting gingerbread cookie with hot tea, try Serge Lutens' Five O'Clock Au Gingembre.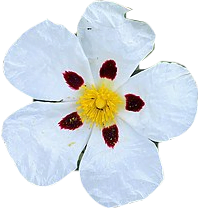 But if you want a ginger that's crisp and bold and utterly unafraid, this is it. Rouge is a weird, layered, cohesive perfume, perfectly unisex like a disheveled sexy shoulder-length haircut on a weather-worn warrior. It's the sort of perfume that simply doesn't care what you think, and somehow produces a certain sophisticated elegance in the process.
And it smells just like tasty pickled ginger.
---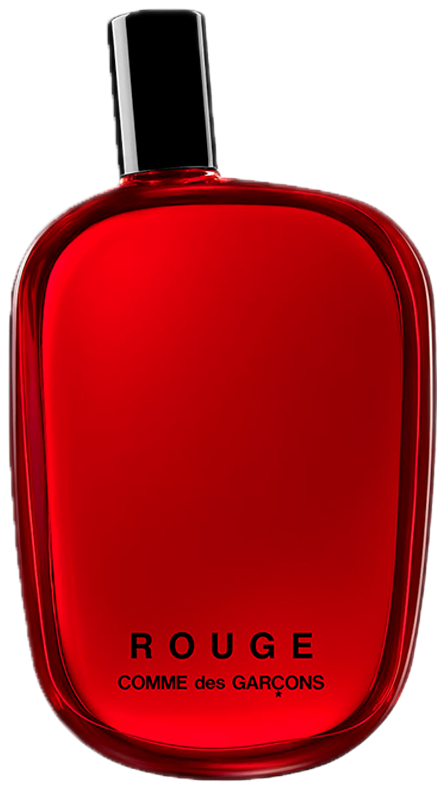 Where to Find Rouge Eau de Parfum by Comme des Garçons
You can find samples, decants, and full bottles of Rouge EdP at Scent Split.
This is an affiliate link. If you click on it and buy something, the seller pays me a commission, at no extra cost to you. You can learn more about them here.